By Kevin Ryan
Posted on May 6th, 2016
This is going to be a very short post about what I was just thinking about while taking a short 25 minute walk along one of the trails near our home just now. I got a email this morning from my long time friend and off and on work colleague Jeff Tunnell. It had a few suggestions about making my blog better from the titles of the posts and also about the content. Some of what he wrote echoed what my wife had told me the other day. Now I'll definitely be doing some of his advice, maybe not all of it, but I'll sure consider all of it.
So as I was walking along through the drizzling rain we are getting here right now, it got me thinking about collaboration. Jeff felt comfortable sending me suggestions along the lines of "hey here's what you can do a little better" and I was fine receiving them. I think that is the result of long time collaboration that has built up trust. Although I think our personalities are such that it was probably there almost from day one.
I've been blessed over the years to work with a whole bunch of talented nice folk. Two of them were Jeff and Damon Slye who were at Dynamix with me as co-owners. They started it up. As I walked along thinking about how people interact in good and bad ways, what popped into my mind was this one scene in a game that Damon and I had planned for David Wolfe: Secret Agent. Somewhere along the line as development progressed, Damon told me that Jeff was really uncomfortable with the scene and preferred it didn't go in there. Not "Jeff says take it out." It meant a lot to Jeff, we took it out.
I'm thinking that is one reason Dynamix did so well, because there was mutual respect and trust. Oh, it did help that Jeff and Damon are super talented, basically the best at what they do. But it seems that there needs to be more present than just that; and our willingness to listen, change, and improve – collaborate in a good way – made the sum greater than the whole of its parts. And now here I am collaborating with Jeff and his latest company, Spotkin, on a game (Contraption Maker) over 30 years after we met. And my son is working with Damon at Mad Otter Games on their Villagers and Heroes game.
---
By Kevin Ryan
Posted on March 28th, 2016
Part two is now posted here: Aidan's Cooler in Contraption Maker – Implementation Details
This is Aidan's story and an explanation of how and why the cooler is one of the parts in Contraption Maker. It is the story of a brave cheerful boy and my friends from work that did something nice for him.
Sometime soon I am going to write another post that describes in some technical detail how I went about implementing Aidan's Cooler in Contraption Make. When I do I'll add a link to it right here at the top of this post.
Aidan
Aidan is my son and he was born in the first half of June 1999. He was underweight and obviously sick so he stayed in our local hospital for a few weeks while they tried to figure out what was wrong. When he was four weeks old his heart stopped for a few minutes before the doctors got it going again. He was then transferred by ambulance to UCSF (University of California, San Francisco – a research hospital) and soon after was diagnosed with Neonatal Hemochromatosis which is a liver disease that is almost always fatal ("The prognosis is extremely poor. Some infants recover with supportive care, but this rarely occurs."). In addition to that he also had acute respiratory distress syndrome.
The doctors did not expect him to survive, but they worked heroically over many months to save him and get him to the point where he could receive a liver transplant. He had the liver transplant when he was four months old and spent most of his first year in the PICU (Pediatric Intensive Care Unit) and the NICU (Neonatal Intensive Care Unit) at UCSF with various complications – very bad and scary complications. There were a handful of times where I thought he was dying in front of my wife and me.
Post Transplant
Post transplant he had numerous problems including collapsed lungs, heart problems, kidney problems, possible fungal infection in the brain, a bleed in the brain that affected his left side, acquired hydrocephalus, deaf in left ear, and more. There were occasional crises.  He wasn't able to eat by mouth and so he had surgery to have a permanent g-tube placed. He was also on supplemental oxygen because his lungs had been damaged. He spent much of the next five years in and out of the hospital. His last major surgery was in January of 2004 where he had brain surgery (Endoscopic third ventriculostomy) which cured his hydrocephalus and allowed them to remove his shunt which was draining fluid from his brain.
We were very happy that that surgery succeeded because the fluid that was being drained by the shunt was not being absorbed in his abdomen because he had so much scar tissue there from his many surgeries. In a hospital stay previous to the brain surgery they had drained 5 lbs of fluid from his abdomen. His weight dropped from 32 to 27 lbs. This was when he was four years old.
I want to break from Aidan's story here for a couple of paragraphs to write a short bit about his nurses. I stayed with Aidan for many weeks in the PICU, sleeping in a chair next to his bed and over the course of all those times I saw many very sick kids there. Sometimes they don't make it. You can tell because they draw all the curtains on the room – all the walls in the PICU rooms are glass – you can see into every room. It is a tough place to be.
There are certain jobs where you are exposed to human misery and there are people that do those jobs – like the PICU nurses that became our friends. Big kudos and love to them for being a balm in such a hard place.
As he stabilized Aidan had less and less extended hospital stays and got to spend more and more time at home. When he was home he needed some supplemental oxygen. We a had big machine that would concentrate oxygen out of the air and Aidan was hooked up to it all the time with a very long tube so he could wander around the house. If we wanted to find Aidan all we had to do was follow the follow the clear plastic tube.
The Highway Patrolman
We lived up in the Sierra Nevada Mountains at 5,500 feet (and still do) so when we were down at sea level he didn't need the extra oxygen. One day when he was three we were driving back from San Francisco from a visit with his liver doctors at UCSF when we were pulled over by the highway patrol near Gilroy. We hadn't yet put on the license plate sticker for the next year – it was in the glove compartment – showed it to patrolman – all fine. Aidan was sitting in his car seat with an oxygen tank next to him – not hooked up because he didn't need it until we got back up to altitude at Shaver Lake. The conversation with the highway patrolman went like this:
Patrolman:  Is that hooked up?
Me:  No he doesn't need it.
Patrolman:  It really should be hooked up.
Me:  He doesn't need it at sea level.
Patrolman:  Uh, you really should hook it up now.
Me:  We just came from the doctors and he doesn't need it here – only up in the mountains.
Patrolman:  (with a sudden big grin) I'm talking about the car seat.
Me:  Oh! Yeah, that's hooked up!
I'm sure we made that patrolman's day.
Wilderness Hikes
Aidan is a true innocent. He will be 17 years old this June, but mentally he is probably around 6 or so. He has been through many painful procedures throughout his life. He has to have blood draws every 6 weeks to make sure that he is not rejecting his liver. Sometimes during hospital stays it has taken one and half hours to start an iv with numerous "pokes". That is because he has been stuck with needles so many times that his veins aren't in great shape. His body is a battlefield covered everywhere with surgical scars. And yet throughout it all he has remained brave and cheerful. He has an indomitable spirit and courage. He finds joy in simple things. He loves and is loved. He is my hero.
At home I'd carry him on my back so he could go on mountain hikes and do everything that the rest of the family does. Hikes through the wilderness are wondrous. There is magic around every bend if you just look for it. As the years went past he just got too big for me to keep carrying. The older Aidan could walk for a while, but eventually he gets very tired so then I carry him. On the hike in the two bottom photos below, I carried him for a few miles and it was really tiring. He was getting bigger and I was getting older. By the end of the hike, my arms were tired, my legs were tired, my brain was tired, and Aidan was very happy. I wanted a Black Butte Porter.
Walking
He wasn't able to walk at all in his first couple of years because his left side doesn't work too well because of the stroke. He could stand, but to move around he'd scoot on his rear. Then one day when he was two he started using a toy as a walker to get around the house. He could really zip around with that thing – I mean run fast! One time he took a corner too fast and went down with the walker on top of himself. Didn't faze him – he was up and off again right away. It was good he figured out how to get around his "can't walk" problem because once he became more mobile then he could more easily play with his brothers and sister.
Pikachu
When he was an infant he became very attracted to Pikachu. I spent many, many, many, many hours and days and weeks and months and eternities watching Pokemon with him at the hospital. One day when he was two or three he was with me at a Goodwill store and there was a big stuffed Pika in the discount bin. He shouted, "Pika!!" My wife heard him from across the store. That Pika goes everywhere with him. It has gone into many surgeries with him. Even today he uses it as a pillow and it travels with us whenever we go anywhere.
Steve McQueen
We will occasionally stay at the Glen Tavern Inn which is in Santa Paula. It has quite of history of old Hollywood stars staying there – Houdini, John Wayne, Rin Tin Tin, etc. In 1979 Steve McQueen lived in a hanger at the Santa Paula airport just a couple of blocks from the Glen Tavern Inn. So of course, since Steve was a patron, one of the drinks that they have at the bar there now is "The Steve McQueen". It consists of:
-Coke
-Jack Daniels
-Bacardi 151 Rum
-Jagermeister
Aidan has gotten into the habit of finding ways to help around the house. A few years ago he started taking the trash out to the street for the garbage truck. He does lots of small tasks like this. So a couple of years ago out of the blue he decided to help mix drinks for me. "Want me to make you a Steve McQueen?" So I said sure. Now Aidan likes coke and so I had been letting him have any of the left over coke. So apparently he figured out that if he puts in more alcohol there is more left over coke for himself.
One day I filmed him making me a drink. That drink started to look very dangerous, I wanted to say hold it, but I kept my mouth shut as I watched with an impending sense of doom. I think it is the Bacardi 151 Rum that is the killer. Anyway I tried to finish that drink, sipping slowly, while watching a movie with the kids, but couldn't. It crept up on me and eventually hit me pretty hard and I had to go lie down on the bathroom floor. The last time I felt like that was my freshman year at the University of Oregon in the Bean East dorm.
Here is the video of Aidan the bartender:
My Name is Aidan
Back in 2007 we visited Ireland for a couple of weeks. One night we went to Knappogue Castle for a medieval feast which was lots of fun with food and singing. Aidan really enjoyed it. When we got back to the Old Ground Hotel in Ennis where we were staying my brother gave me a poem he had written.
Coolers
Aidan will get interested in many different strange things and for some reason he started to like coolers. I'm not sure exactly why or what triggered it in his head, but he slowly acquired a small group of different size coolers. One day after watching Toy Story 3, I found that he had set up the coolers around a "See 'n Say" toy, mimicking that scene from the movie. To this day he will still set up the coolers different places around the house having them do different tasks.
Dynamix to Spotkin
In 1984, a year after graduating from the University of Oregon, I was living in an apartment just off campus when I got a phone call from Damon Slye. He and Jeff Tunnell had just started up Dynamix and they wanted me to do some work for them. Not long after that they asked me to come on board as one of the original four owners of the company. Our first product was with Electronic Arts (Arctic Fox) and over the years our company grew to around 200 people. We went through a lot of ups and downs over the next 16 years. Bought out by Sierra which was good. Merged with CUC International which was very bad. Here is a New York Times article about CUC and the biggest accounting fraud ever: Asleep at the Books: A Fraud That Went On and On and On
During the years when I was spending a large part of my time in the hospital with Aidan, Jeff started up Garage Games with some former Dynamix employees. I published a few games with them before it was bought out by Barry Diller's company (IAC) in 2007. Then he started up Pushbutton Labs which was bought out by Disney in 2012. I actually worked with Disney for a year or so before I moved on to work with Jeff again on his new venture, Spotkin. That was when I started work on Contraption Maker which is in many ways an updated version of The Incredible Machine.
So over the course of development of Contraption Maker, I implemented a whole boatload of different parts. At one point in the development I was implementing some container type parts in the game like boxes, baskets, and such. Around this time I was on one of my Eugene visits and I tell the Spotkin guys (Jeff, Jon, Keith, Tim) about how Aidan likes coolers. A few days later I get the artwork from them so that I can add cooler part to the game. They even put Aidan's name on the cooler. It is a good thing to have work colleagues who are also your friends. In Jeff's case a friend for over 30 years now.
Cool! I implemented it in the game and then brought Aidan into my office to see. You should have seen his face light up with a huge smile the first time he saw it.
---
A longer version of Aidan's early years is here: Aidan Ryan – Liver Transplant Story
It may take me a while because I'll need to find some free time, but as I wrote above, I'm going to write another blog post that gives a technical description of how I took the artwork above and turned it into a cooler that acts with correct physics.
For now I am going to end this post with a more recent photo of Aidan and a video from his Make-a-Wish trip where he figured out he could make his shoe squeak.
---
By Kevin Ryan
Posted on March 2nd, 2016
I originally wrote the blog below back in 2009. I posted it on my website, meaning it was seen by no one, and also on the blog section of Garage Games, meaning it was seen by a few people. I've been thinking about it again recently because it's been exactly a year since Ken Embery died. He was a producer on many Dynamix games and I got to work with him on quite a few of them
Also, since I wrote the below, Shawn Bird passed on. It happend out of the blue. One day he was just gone. He was an artist at Dynamix who worked many different games over the years he was there. He created the Johnny Castaway character from the screen saver that Sierra released back in 1993. Btw, we once got a support call that the screen saver was broken – it'd go away whenever they moved the mouse.
Shawn also designed the manual for "The Incredible Machine" Anyway, another great game dev person that is missed by a lot of people…
——————————————————————————————————————————–
08/15/2009
In '78 I was 17 and driving up 101, heading to a concert in San Francisco to see Neil Young. I'm not sure how that road turned into the one I'm on.
Back in 1995, near the end of November, I was moving out of Eugene first to Fresno and then eventually up to Shaver Lake in California. We were having a log home buit and we were going to stay in Fresno for roughly a year while it was being built. I had just finished off the latest version of The Incredible Machine so I was between game projects.
It was one of those rare rainy days in Eugene. I think Eugene is known as "The Sunshine City". I stopped by JTP (Jeff Tunnell Productions) to say goodbye to everyone. In the van was my wife, 4 kids, one dog, one cat, two birds, and all our luggage that didn't go with the moving van. My wife was pregnant with two months to go and had just gotten out of the hospital a couple of days earlier after spending a night there on meds to stop contractions.
Most of the JTP guys were in the office so I said goodbye and hopped into the van for the drive. Then I saw Darek Lukaszuk standing out in the drizzling rain having a smoke. Darek had joined up with Dynamix in the very early days; I think sometime in 1986. I was going run out and say goodbye to him too, but it was raining and I was planning on coming back to Eugene for a visit soon so I thought, "I'll see him in a few weeks."
The drive down to Fresno took around 12 hours or and wasn't too bad considering how packed in the van we were. A few days later I got a phone call, "Derek was in a car crash and is in the hospital." I didn't hear any of the details, but it sounded pretty bad and I was hoping he'd get better and out of the hospital soon.
A few days later there was another phone call, "Derek died."
I guess sometimes you don't have a few weeks to come back and talk again. Here I am slowly closing in on 50 and there is Derek eternally stuck at roughly 30 years old. It'd be fun to see him like some of my other old Dynamix (and now GG) buddies on my occasional visits to Eugene and have a beer and talk, but some things just can't happen. If you've every enjoyed any of the Dynamix games there is a good chance that Derek was one of the guys that helped create it.
I've been blessed over the years to have worked with a large number of very talented and decent people. Those are the sorts of things that I've learned to treasure more and more.
Here is a photo of the "Heart of China" team. That's Derek front and center 🙂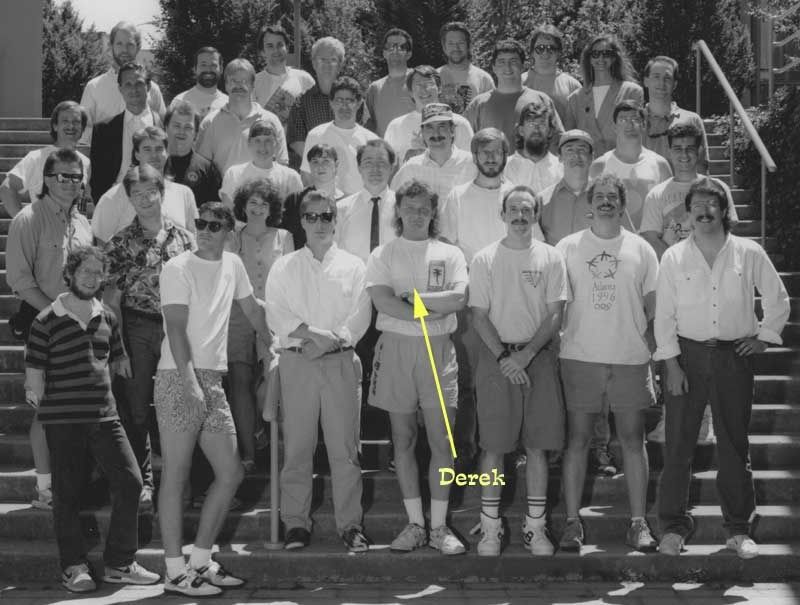 ---